---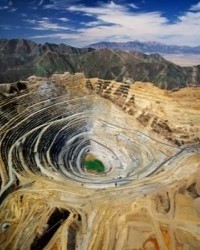 Wear Products for the Mining Industry
Whether you work in frac sand, coal, gold or limestone mining, from falling metal prices to a shortage of skilled workers, the industry faces several challenges today. The global risk management company Marsh

lists several operational issues facing this industry, including the need to mine in more difficult areas–such as deeper underground and underwater–as well as "long lead times for replacement of key plant, machinery, and equipment."
More Difficult Extractions Equals More Wear on Equipment
As the mining industry moves into more difficult extraction areas, the wear and tear of equipment increases, making regular maintenance more important. Keeping chutes, hoppers, conveyors and other important parts of your equipment are essential to safety and your return on investment (ROI). Making sure your equipment is safer, with less downtime is where AJ Weller shines. Weller's experts work with you to find solutions to keep your operations running as smoothly as possible.
Warning Signs
Vibration, shock and high temperatures are all warning signs that something is not right in your heavy machinery. Small variations may seem like a minor nuisance but if left unchecked, they can turn into a major breakdown that can cost you in down time and become a safety hazard. Weller's wear products are designed to take the majority of the wear and tear so that when a repair is needed, it's easier, quicker, and safer.
Determined Continuous Improvement
Mining has been around since Ancient Egypt and over several thousand years, the industry has risen to every challenge that has presented itself. US mining deaths have decreased drastically in the last 100 years, showing the resolve to evolve into a safer industry.
Mining companies have an impressive track record for delivering continuous improvements in safety and risk governance standards. We have no doubt that the professionalism and expertise present within the industry will ensure that any new and emerging risk challenges are dealt with in an equally determined fashion. – Marsh.com
Partners in Excellence
Mining's intensive environment and commitment to excellence makes it a perfect match for Weller wear products and services. Attention to equipment, site, and personnel safety allow Weller to provide excellent cost benefits from extraction to processing in the mining industry.
Would you like to know more about Weller's capabilities in the mining industry?
Please contact us directly at: 318·925·1010