Chrome Carbide Overlay Products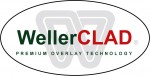 WellerCLAD®
WellerCLAD® has earned an exceptional reputation in the industry due to its excellent abrasion characteristics, weldability, and time-in-service compared to a traditional chromium carbide overlay plate. While A.J. Weller has the unique ability to change the overlay chemistry per a customer request, standard WellerCLAD® is a combination of chrome carbide, manganese, and vanadium that is metallurgically bonded to a pre-specified high-yield strength A-36 base. A state-of-the-art, computer controlled, low temperature fusion process maintains consistent and proportional cladding of the overlay in the flat to ensure consistent hardness, finish and temperature tolerances approaching 1200°F. Standard WellerCLAD® is offered in Grades 150 and 185 with true finish tolerances of thicknesses ordered.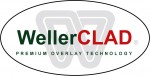 WellerCLAD PIPE®
Abrasion resistant chromium carbide overlay pipes and elbows are designed for use in applications where severe abrasion in combination with moderate impact and heat occurs in the inner diameter of pipes or elbows. WellerCLAD PIPE® is made utilizing an overlay process that involves open arc deposition of chromium carbide in a manganese and steel matrix. One pass on the inner pipe surface yields 60RC while two passes yield a surface hardness of 63RC. The overlay is rated to be stable at 900°F and a special high temperature version, WellerCLAD PIPE HT®, is available for applications up to 1200°F or 1800°F with stainless steel backing pipe. WellerCLAD PIPE® is available down to a 2 inch diameter and is applied spirally to avoid seams that are parallel to the direction of the material flow.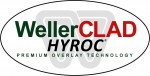 WellerCLAD HYROC®
WellerCLAD HYROC® is a dynamic, hybrid composite that is metallurgically bonded to a steel or iron substrate. WellerCLAD HYROC® provides an extreme wear and impact resistance surface that is superior to other common overlaying processes such as hard chrome plating and thermal or plasma sprayed type coatings. WellerCLAD HYROC® has an excellent inter-metallic, force lattice structure that allows it to hold its bond strength during severe impact and abrasion.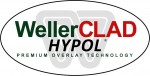 WellerCLAD HYPOL®
WellerCLAD HYPOL® is an exciting new product from Weller that has been engineered to handle impact and high abrasion while promoting continuous flow. Developing a quality product that can tackle all three of these issues and provide for a useful service life can be extremely challenging, but Weller has solved this dilemma through a combination of chromium carbides, manganese, and vanadium in an iron base that is metallurgically bonded to steel with a low temperature fusion process to maintain the integrity of the materials. This unique chemistry, high chrome and other alloys lend themselves to excellent lubricity, promoting flow. The carbide size, density and consistency provide a super tough wear resistant surface that stands up well to high abrasion. The state-of-the-art fusion process makes the material tough enough to absorb heavy impact without degrading or spalling. This product may even outlast a chromium carbide plate. WellerCLAD HYPOL® has been the recipient of numerous accolades for its uniqueness, time-in-service, and high quality standards.

WellerCLAD TECH-9®
WellerCLAD TECH-9® was exclusively designed for use in extremely high abrasive environments. WellerCLAD TECH-9® utilizes a unique alloy transformation technology which causes a reaction to occur within the substrate that permits its matrix to become very tough at a minimum of 70+ Rockwell ("C" Scale) with excellent bond strength. WellerCLAD TECH-9® maintains its hardness at temperatures up to 1200°F and is an exceptional choice for intensely focused fine particle impingement and/or impact. WellerCLAD TECH-9® is available in various custom matrices and in pipe form.

WellerCLAD RAZER®
WellerCLAD RAZER® is a metallurgical blend of unique molecular isobaric and isothermal processes that produce a superior wear surface. The chemistry of WellerCLAD RAZER® can be augmented to respond to applications that have high abrasion, high corrosion, high impact, etc. WellerCLAD RAZER® can be used on bearings, shafts, circumferential and flat geometric surfaces. The isothermal properties allow a surface to be enhanced without compromising critical base metal integrity. WellerCLAD RAZER® is available in many grades depending on your particular application and performance parameters. Please contact an A.J. Weller Application Engineer for further information.