---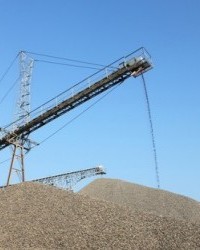 Wear Products for Bulk Material Handling Equipment
From corn to coal, there's a lot riding on bulk material handling equipment in many industries. It is important to keep these machines running efficiently to maximize productivity in order to keep from creating bottlenecks that affect downline processes. This is where The A.J. Weller Corporation can help.
Handling Machines
There are a number of machines that fall under this classification. From conveyor belts, stackers and reclaimers to bucket elevators, grain elevators and hoppers. All of these machines carry heavy products from one place to another. This leaves a lot of room for breakdowns, inefficiency and potentially dangerous situations, especially in more abrasive environments.
Abrasive Material Solutions
Keith Simpson, marketing manager with Spiroflow Systems, emphasizes the abrasiveness of certain heavy materials:
"Some of the most abrasive materials are those associated with quarrying and mining applications. By far, the most popular method of mechanically conveying such materials is by belt conveyors…Besides quarry and mining applications where the particle sizes tend more toward lumps than dust, there are numerous applications in the chemical and food industries that can be considered abrasive."
Working with abrasive materials compound the issues presented with heavy materials. Heavy materials like coal can wear the equipment by sheer weight as well as giving off the fine particles like coal dust that will settle into the working parts of your machinery.
Add Wear Technology
More than just a solution, wear technology can truly innovate your operation. Let our experienced staff partner with you to develop a plan to incorporate our products, reduce wear and tear on your machines, limit shutdowns and lower your maintenance costs. The bulk material handling of goods and raw materials is widespread and critical for the successful operation and maintenance of other downstream industries. Weller's wear technology products promote the movement of these goods and help maintain their material handling infrastructures.